18/10/2016
Ireland, guest country
Marcianos de Marte, by Fernando Trullols,
international premiere at the festival's official opening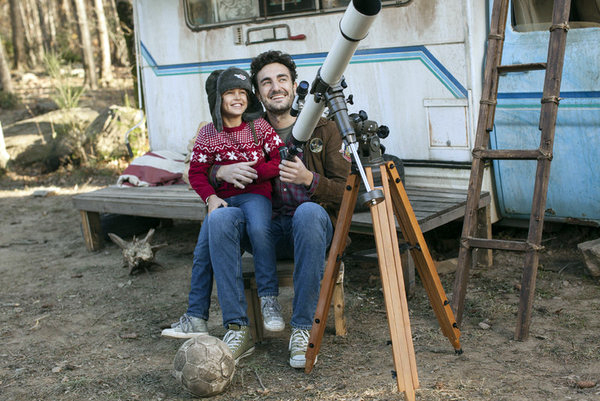 Marcianos de Marte, Fernando Trullols
La 42nd edition of FILMETS Badalona Film Festival will have this year an official section of 232 short films from 36 countries and more than 4,000 films submitted to the selection committee. The festival will last from 21-30 October 2016.
The 42nd edition of FILMETS BADALONA FILM FESTIVAL will be held from 21-30 October at the official headquarters of the Zorrilla Theatre, the Infante Theatre, the Centre Cultural el Carme, the Badalona Museum, the public libraries of the city and the French Institute of Barcelona, that will be offering two screenings from the international programme, with French and Catalan short films in competition.
The International Programme, FILMETS main axis, includes the screening of 232 short films from 36 countries, selected into this year's competition from more than 4,000 films, and they will be showing in the festival's main screens.
The Festival will be opening next Friday 21 October at 6 pm. The short film Ennemis Intérieurs, by Sélim Azzazi (France), Clermont-Ferrand Award 2016, will be starting the first session of the international programme this Friday at 6.pm. The official opening will take place that Friday 21 October at 9 pm. A novelty this year, because the inaugural session will be open to the public (limited places).
Official international jury
The international jury is composed by: Dani de la Orden –film director-, Merja Ritola –producer- (Finland), Marie-Élaine Riou, director of the film festival Regard de Quebec (Canada), Aritz Cirbián –producer- and Rita Colantonio –actress and filmmaker- (Italy).
Juanjo Giménez, prize of honour 2016
Juanjo Giménez has been awarded the Prize of Honour on this 42nd edition. The prize-giving will take place on Saturday 29 October at 8 pm in the Zorrilla Theatre, on the Nit de les Venus ceremony, which will be live broadcasted by Televisión de Badalona, the televisions part of the Xarxa de Comunicació Local and by the Channel La Xarxa de Televisiones offered by Movistar. Juanjo Giménez is a movie professional that has focused on short films for many years, and he has won, among others, the Venus de Badalona in two occasions, and the Palme d'Or in Cannes this year. Timecode, his short film awarded in Cannes, will be screened in in this year's edition as part of the films in competition.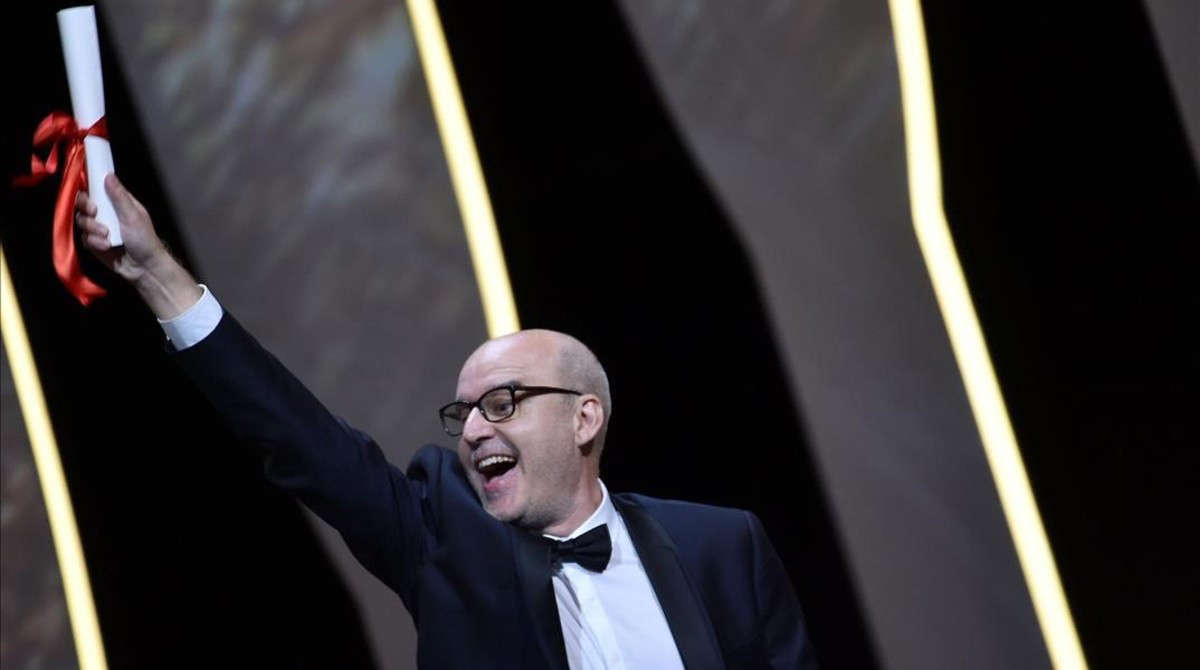 Official poster
The cover of the catalogue and this year's official poster have been designed by Marta Blanco Muñoz, student of Graphic Design in the Escola d'Art I Superior de Disseny Pau Gargallo of Badalona.
From the beginning of the festival the number of sessions has been increasing, carrying out a dissemination task among the schools, high schools and retirement homes. The Festival organizes a special screening aimed at all audiences with sign language and subtitling for the deaf and hard-of-hearing, on Saturday 22 October at 5 pm.
PROGRAMA INTERNACIONAL
The official section, showing all films in competition, is distributed along 26 international programme sessions. All the films from the official section will be showing at the Zorrilla Theatre and at the French Institute in Barcelona.
Thematic sessions:
Ireland, guest country: international programme session dedicated to short films awarded by the most important festivals worldwide. Standing out, among others, is Stutterer, by Benjamin Cleary, winner of the Oscar for best short film in 2016.
Manifest: session comprising short films of political nature.
Sessiò golfa: the most daring and bold short films of the programme.
Cinema mediterrani: dedicated to films from Mediterranean countries.
Drets Humans: short films of social nature.
Filmets Campus: productions from film schools in Catalonia and Europe.
Filmets en família: screenings for the little ones, showing animated international short films. The screenings will take place on the Zorrilla Theatre on Sunday morning 23 at 10:30 am and at 12 pm, with different programmes.
Filmets en forma: short films session about the world of sport, in collaboration with BCN Sports Film.
Selecció Palmarès: On Sunday 30 October at 5 pm at the Zorrilla Theatre, the awarded short films of the 42nd edition will be screening.
OFF FILMETS
Besides the official section, the festival is offering all the side activities in OFF FILMETS. This will consist of a series of sessions aimed at directors and professionals. OFF FILMETS will be running in several spaces: the Blas Infante Theatre, the Badalona Museum, the libraries in town, and the Centre Cultural El Carme, which will be holding the gathering of professionals FILMETS Pro.
Those are the sessions included in OFF FILMETS:
Filmets primària i Filmets secundària: sessions attended by around 5,000 students from Badalona schools, from 3rd

and 4

th

course.
Filmets per a tothom: sessions for people with disabilities.
Filmets a les biblioteques: sessions of short films in all libraries in town, on the days before the festival (Lloreda, 4 October; Sant Roc, 6 October; Llefià-Xavier Soto, 10 October; Canyadó i Casagemes-Joan Argenté, 11 October; Pomar, 19 October y Can Casacuberta, 20 October) with the purpose of delivering short films to all neighbourhoods in town.
Masterclass: this year with Alfredo Torres, Adrián Garcia and Víctor Maldonado from Headless, one of Barcelona's most creative animation studios. They can be proud of working for clients such as Dreamworks, Disney and Nickelodeon. Their work includes 'Nocturna', one of their first films, 'Tadeo Jones' as well as their past collaboration with J.A. Bayona in A Monster Calls.
Cinema històric: The 14th edition of Historical Cinema is dedicated to the monastery Saint Jeroni de la Murtra, which is celebrating 600 years' history. The screening includes a selection of documentaries about la Festa de l'Arbre (the Tree Celebration), which is held every year at Sant Onofre's hermit.
Badalona en curt: screening of short films by local filmmakers. This year 27 films have been submitted, and three of them have made it to the official section.
Filmets Pro: An event that gathers professionals from the short film domain, aimed at directors, producers, programmers and distributors. The event will take place on Friday 28, October, at 5 pm in the Centre Cultural El Carme, 78-82 Francesc Layret, Badalona. Worldwide renowned professionals from the short film industry will share their experiences in the world of film festivals, in distribution and production companies, as well as new aspects relevant to the short film sector. Lecturers:
José Luis Montesinos, film director – Winner of the Gaudi Award 2015

Marie-Élaine Riou, head of the Regard Saguenay International Short Film Festival and of the Short Film Market. Canada (Quebec)

Pablo Menéndez, distributor, Marvin&Wayne

Merja Ritola, Inland Film Company Oy, producer, from Finland.
Online bookings: link
Mirades de cine (The other side of festivals): exhibition of photographs by Agustí Argelich taken during the past years in the festivals of Cannes, Sant Sebastian, Sitges and Deauville, among others. A personal vie won directors, actors and actresses and a tribute to media professionals. From 3 October to 15 November at Canonge Batanera 95 – Badalona.
Filmets Connect'art: showing of short films within Connect'art Fair Young Artists Badalona in its 4th

edition. It will take place next Sunday 22 at Pompeu Fabra Square.
The short film Marcianos de Marte, by Fernando Trullols, winner of a Goya award, will be officially kicking off the festival.
Starring Miki Esparbé, Núria Gago, Sandro Ballesteros and Paula del Río, an up-and-coming actress. The film will premiere at the festival. The director, actors and the technical team will all attend the ceremony. Fernando Trullols has worked, among others, with J.A. Bayona.
Among this year's programme some titles stand out for being selected or even winning at Cannes, Sundance, Berlin, Venice, Clermont-Ferrand, Hamburg, Tribeca, Trouville, etc., and also some of them have won or been selected for the Gaudi, Goya, Caesar, Donatello, Bafta or Oscar Awards.
All cast and crew information and story lines of the films in FILMETS 2016 can be found in the official catalogue, available for download online as PDF at https://www.festivalfilmets.cat from 18 October.
OTHER INFORMATION
Opening session –International programme 2: FILMETS Badalona Film Festival 2016 will be opening on Friday 21 October at 9 pm in the Zorrilla Theatre (free entry).
Closing ceremony (Nit de les Venus): Sunday 29 October at 8 pm at the Zorrilla Theatre (invitation only).
The closing ceremony will be live broadcasted by Televisió de Badalona, the joint televisions within the Xarxa de Comunicació Local and by La Xarxa Televisions, channel offered by Movistar+.
Phone number: +34 93 497 40 00
E-mail: filmets@festivalfilmets.cat
ACCREDITATIONS
At the festival's webpage you will find the tab: Accreditations.
Media representatives can access all the screenings with their press cards. It also gives right to attend the opening and closing ceremony, where media agents are expected to show their cards.
For any further information, please contact us at premsafilmets@teleb.cat
FILMETS Badalona Film Festival is organized by the Badalona Town Council and produced by the municipal company Badalona Comunicació.
Stutterer, Benjamin Cleary